Breaking News
The Legislation page provides information about the legislation occurring in each state, Maine, New Hampshire and Vermont.
In New Hampshire, House Bill 377 has passed and is law. Governor Sununu passed the legislation in the summer of 2023.  Check here for the technical advisory.  In other new, House Bill 437 is currently in the working subcommittee of the New Hampshire House.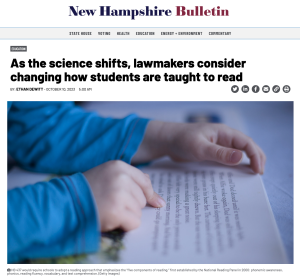 In October 2023, Ethan Dewitt ran a story about Representative Glen Cordelli's literacy initiative. Check out the article
here
. "
House Bill 437
would require that all public school districts adopt "measurable, evidence-based" literacy instruction for kindergarten through fifth grade that follows the "science of reading," a path that emphasizes phonetic instruction over context-based reading. The bill would also require all public school districts to test students from kindergarten through third grade three times a year on their reading proficiency through a standardized assessment" (Dewitt, 2023).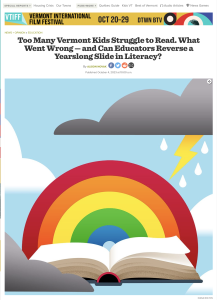 As Vermont seeks a new Secretary of Education, parents, teachers, an community members advocate to pass legislation to ensure effective dyslexia screening and structured-literacy curriculum and instruction.
See Alison's Novak's extensive news story, 
Reading Reckoning
, in 
Seven Days
 on the state's reading crisis, published 10/6/23.
Peter D'Auria, The education reporter in 
VTDigger
, Vermont's online news outlet, has 
published a story
 on the need for a new Vermont Secretary of Education with expertise in the science of reading.
This is an unprecedented, exciting development in a state whose media has heretofore ignored the problem. IDA-NNEA urges all Vermonters who care about student reading to contact their State Senators and Representatives about the need for structured literacy legislation, and to contact their local School Board and Superintendent to find out how reading is taught in their own backyard. Vermont members of IDA-NNEA are organizing together to advance effective screening and reading instruction at the local and state levels. To get involved, contact Mack and Cynthia Gardner-Morse at 
teach.vt2read@gmail.com
or (802) 223-5738.
Check back here frequently to explore what is occurring in the Northern New England states.
For more information on the state of dyslexia legislation across the United States, check out the National Center on Improving Literacy website. NCIL provides information for parents, families, schools and districts, and state agencies. The NCIL site also provides resources for families, educators, among others regarding literacy. Check out their site here.