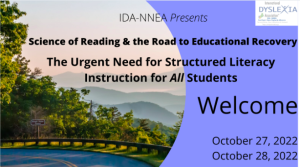 Welcome to the IDA-NNEA Annual Two-Day Virtual Conference.
We are so pleased to have you consider joining us. During the two days over 10 sessions, internationally renowned speakers provide information, expertise, and support for those affected by dyslexia and reading challenges. Educators, students, researchers, families, parents, advocates, and therapists are all invited to learn, network, and gain the tools they need to support those impacted by reading struggles.
Topics include
Science of Reading Overview
Science of Reading and Structured Literacy
Reading Assessment and the Pathway to Instruction
Importance of Early Literacy Screening
Best Practices in Systems Level Change
Teacher Preparation and Knowledge
Decodable vs Predictable Texts
Science of Reading & Reading Comprehension and Writing
The 5 Shifts
Supporting Professional Learning Through Social Media
The Virtual Conference experience provides LIVE presentations each day with recorded On-Demand access available over a 30-day period. Attendees can receive up to 11.25 professional development hours, issued as a certificate 30 days after the close of our virtual conference. (Attendance for each session is recorded. To receive all conference professional development hours each session must be attended in full.)
To make the conference accessible, we are offering this conference at a greatly reduced rate, for as little as $25 for students, university professors, and IDA-NNEA members.
To access this low rate, consider joining the IDA-NNEA for as little as $25.00!  Join IDA-NNEA Now
Free Limited Membership for Classroom Teachers. Join HERE to apply.
For everyone, everywhere, literacy is, along with education in general, a basic human right…. Literacy is, finally, the road to human progress and the means through which every man, woman and child can realize his or her full potential." ~ Kofi Annan
We recognize your contribution, supporting and empowering students to become proficient in literacy. To aid you in your mission, we are offering this conference FREE to all Central Office Administrators (including Superintendents, Instructional and Curriculum Coordinators, Special Education Administrators, and Special Education Coordinators). We thank you for your support of literacy.
This event is also available on the Whova Mobile App: 
Download Link
.
You can interact with others on your phone in the app more conveniently wherever you go.